Hotel in Kiruna
We are temporarily closed.
Why stay in a hotel when you can stay in a home?
Hotel, Kiruna.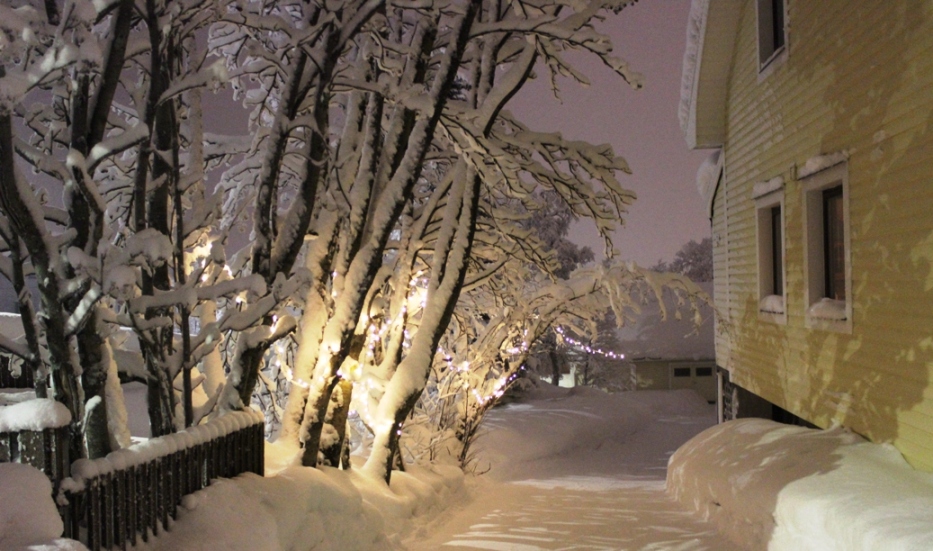 In the upstairs of our house you have your own living space, not just a bedroom. You have the environment and living space of a home rather than squeezing yourselves and luggage into a small hotel room. Of course, we think it's the best that Kiruna can offer!

We're well positioned in town – a few minutes' walk from restaurants and shops, in an residential part of town with many older houses. Our wooden house has been extended and modernised, and provides very comfortable and warm accommodation. It looks out across town to the empty landscape beyond.

You can rent a car and park it right by our house, giving you the option of wider exploration in the landscape that's on our doorstep, or you can do without and just walk in town and areas close by, taking the bus for trips out. Either way we can advise you on the options. There are many companies in town offering tours (who will collect you directly from our house) but sometimes the best experiences are to be had by arranging trips yourself. We're happy to share our knowledge about where to go, where to walk, and how to explore.

The bus station is walking distance from the house, with regular links (it takes 30 minutes) to the ice hotel. There are also regular buses to the train station (which is out of town). Taxis are a good option for arriving here from the airport, but you can also take the airport bus.

We don't guarantee you'll see the northern lights when you stay with us, but if they do appear you can see them from our garden, right by the house.

For two or three people we provide a bedroom and attached private living space amounting to over 30 square metres of space to yourself. You'll share a bathroom with one other room.

If you are a group of people (we can accommodate up to 6) you'll have the whole of the upstairs of our house – over 80 square metres of personal space. There are four rooms – two bedrooms and two living areas – and a private shower room.

As our guests you have facilities for making hot drinks, and the use of a fridge. We provide a good breakfast in our own living room downstairs, and we're on hand if you need any advice or help with your stay.



Trip Advisor
Booking
There's nothing to pay when you book ‐ ‐ we take full payment when you arrive, and cancellation is free up to 48 hours beforehand.

We offer special discounts for booking as a group, and for booking for three nights or more.

More details about our rooms and about staying with us can be found by selecting the tabs above, and availability and our rates can be found here.



If you have any questions, just email us!

Email: 68 degrees b&b